A Whirlwind of Clay
- a Stellar Moment in the History of Artistic Ceramics
The International Ceramics Meeting - Incontro internazionale della ceramica - Albisola 1954
Ursula Lehmann-Brockhaus: "Incontro internazionale della ceramica". Albisola, Sommer 1954. Appel, Baj, Corneille, Dangelo, Jorn, Matta in der Werkstatt Mazzotti Giuseppe.
Rom, Campisano Editore, 2013. 250 pages, richly illustrated in color.
A new art book on the International Ceramics Meeting in Albisola 1954 organized by Asger Jorn.
Reviewed by Per Hofman Hansen. Translated into English by John Churchill.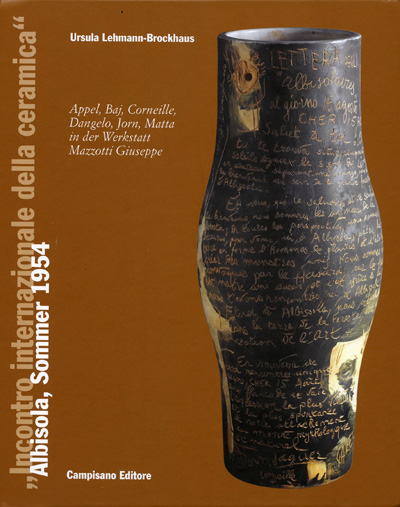 The cover of Ursula Lehmann-Brockhaus's beautiful book. Illustrated in color with 250 pages and published in Rome by
Campisano Editore
in 2013.
In the recent years leading up to Asger Jorn's 100th birthday a series of important exhibitions have been held, both here in Denmark and abroad - in the Centre Pompidou, the Kunsthalle Emden, Lausanne in Switzerland, the Essl Museum in Austria and as far away as Brazil. Most of them have been complemented by large and beautiful catalogues, in Denmark for example 'Jorn International' at Aros, 'Jorn & Pollock' in Louisiana, 'Restless Rebel' at the Danish National Gallery of Art, and of course the Museum Jorn in Silkeborg. Here, as a prelude to the 100 years, there were also books about Jorn that related to Per Kirkeby, Ensor and Picasso, and now there is the highlight 'Expo Jorn, Art is a Festival'.
Independent of these exhibitions, several important books about Jorn have been published. In Danish and German there are the indispensable records and descriptions of his graphics and sketchbooks by Gerd Presler, and the same in Danish, German and Italian by Ursula Lehmann-Brockhaus of Jorn's ceramics, bronzes and marbles (see bottom of this page). Lastly, Lars Morell has added his own very personal view in his 'Asger Jorn's Art'. There are further important publications such as Jorn's own 'Pour la Forme' in English (Museum Jorn) and in Danish, under the Sohn Publishing imprint, Ruth Baumeisters 'Fraternité avant tout', as well as the forthcoming book by Karen Kurzcynski on Asger Jorn's art and politics, 'The Avant-Guard never gives up'.
Ursula Lehmann-Brockhaus, a longtime connoisseur of the ceramic work of Asger Jorn and his artist friends, has recently published an impressive new work. In 1960s Lehmann-Brockhaus was the co-author of the Silkeborg Kunstmuseum's two catalogues on Matta and Dubuffet and in 1991, together with the curator Troels Andersen and the ceramist Erik Nyholm, she contributed to the exhibition catalogue of Jorn's ceramics.
Her new book concerns 'The International Ceramics Meeting' (Incontro internazionale della ceramica) that Jorn organized in Albisola in 1954 - a gathering that many have heard about but about which they actually know very little.
From the outset of his career it was always important for Jorn to cooperate with like-minded artists - just think about the Helhesten Journal or such as the Cobra, Høst and Spiralen groups.
By dint of much patient detective work, rather like an archaeologist, the author has uncovered the story of that artistic cooperation. She reconstructs the detail of the experiments of a series of innovative experiments carried out in the Mazzotti Giuseppe workshop in Albisola by him and his artist friends Karel Appel, Enrico Baj, Corneille, Sergio Dangelo and Roberto Matta.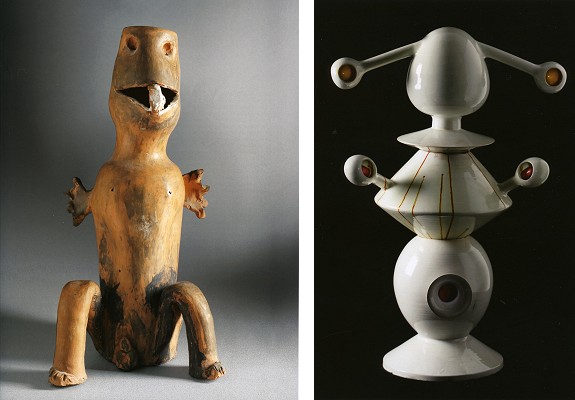 Asger Jorn: Untitled. 1954. (Dialed form), slipped ceramics, 40 x 20 x 14 cm. Private collection.
Roberto Sebastian Matta: Untitled. 1954. (Three-piece sculpture), glazed pottery, 71 x 31 (with outgrowths 49) cm. Private collection. Full page illustrations from the book.
Jorn had become familiar with clay and ceramics during previous occasions in Silkeborg and Sørring and had already begun there to develop his own unique design. But it was meeting Albisola's highly professional potters and their workshops, and above all with their longstanding tradition of working with real artists, that stimulated his imagination and diversity even further. He recognised the great opportunity it offered to like-minded artists to collaborate, and this short constructive gathering of highly gifted personalities led to an atmosphere of extraordinarily creative power.
Everything was new - the modelling of the clay where Jorn was able to free himself from his prior sketches, the use of colourful glazes made possible by the greater availability of industrially-produced materials, and the radically different categories of form that he produced in the clay. Here he reached new heights with his experiments in spontaneous and expressive modelling.
The owner of the workshop, Tullio Mazzotti, asked each of the invited participants to record in their notebooks all the work they produced at the meeting, and Lehmann-Brockhaus's book brings to light these descriptions for the first time ever with the exception of the one already published previously by Jorn. In addition, there are over one hundred reproductions of the work, nearly fifty of them never shown before.
The result of this meeting was therefore something quite new in art history and the records passed down in the notebooks are a unique piece of documentation. Most important of all, such was the quantity and quality of this impressive body of work, that Lehmann-Brockhaus can state without exaggeration that the event was nothing less than 'A Stellar Moment in the History of Artistic Ceramics'.
Forty-eight works produced by Jorn at that experimental session are known today. In his own booklet he drew and described them and divided them into categories such as plates, plates with relief, relief, relief on a plate, free relief and sculptures, and thirty of the pieces can still be identified today. At the Museum Jorn there are his 'Jyske Linier', 'Dødshunden', 'Marsmenneske', 'Flugten' and 'Tidlig vår' (Jutlandish Lines, Death Dog, Mars Man, The Escape and Early Spring).
The author has most impressively managed to track down and identify a huge number of the works from the meeting, either where they have been found in public collections or else held unseen in private ownership.
The notebooks of five of the six artists were preserved. In the book these are reproduced in a reduced size. There are new colour photographs of the ceramic works, and wherever this was not possible, older ones in black and white. The author additionally explains the assumptions of the artists, their individual methods, their unique qualities and the fruits of their mutual cooperation. She also discusses the way each of them used their notebooks. The book ends with the reproduction of a number of interesting and sometimes outspoken letters and other documents from the International Ceramics Meeting of that remarkable August in 1954.
This is a beautiful and superbly designed book with many fine photographs of some amazing and very different ceramic work. From a Danish point of view it is a pity that this book is only available in German.
Per Hofman Hansen
Librarian. In 1988 he compiled "Bibliografi over Asger Jorns skrifter - A bibliography of Asger Jorn's writings", published by Silkeborg Kunstmuseum.
---
Bibliographical notes and links:
Ursula Lehmann-Brockhaus: "Incontro internazionale della ceramica". Albisola, Sommer 1954. Appel, Baj, Corneille, Dangelo, Jorn, Matta in der Werkstatt Mazzotti Giuseppe. Roma, Campisano Editore, 2013. 250 pages richly illustrated with colour plates. ISBN 978-88-98229-03-1. www.campisanoeditore.it.
My Danish review was also brought shortly abridged in the Silkeborg newspaper Midtjyllands Avis on April 24,d 2014.
---

Asger Jorn i Italien 1954-1972
In 2007 Silkeborg Kunstmuseum / Museum Jorn published Ursula Lehmann-Brockhaus's imposing "
Asger Jorn i Italien. Værker i keramik, bronze og marmor 1954-1972
". The book was published in
Danish
and
German
and related to the exhibitions at Silkeborg Kunstmuseum, Museum Villa Stuck in Munich and Kunsthalle in Emden.
In 2012 the book was published in
Italian
by the publisher Campisano Editore in a slightly revised edition under the title "
Asger Jorn in Italia. Opere in ceramica, bronzo e marmo 1954-1972
".
---
Published May 14, 2014. Copyright: - My homepage can be seen on Aldus.dk