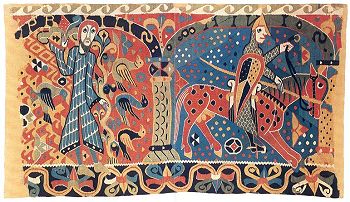 Click on the tapestry in order to see it in a bigger size

To the Danish Version



The Baldishol Tapestry, which is now in the The Oslo Museum of Applied Art, is believed to originate from the very end of the 12th century. The part which has been preserved - the two months of April and May - is a fragment of a larger tapestry designed as a frieze which most likely consisted of 12 motives - one for each month of the year.
The right and the left sides of the tapestry clearly show that it has been torn apart. The section which has been preserved measures 118 by 203 centimetre. It is made out of wool from the Norwegian sheep, spellsau. In some places flax has been used. The yarn, which was dyed with vegetable dye, is red, yellow, green, or one of many shades of blue.

Read and see more about
The Motive of the Month of April
The Motive of the Month of May
The Edging, Flowers and other Details of the Baldishol Tapestry
The History of the Baldishol Tapestry
The Weaving technique of the Baldishol Tapestry




Literature about the Baldishol Tapestry
Aase Bay Sjøvold: Norsk billedvev. Oslo, C. Huitfeldts Forlag, 1976. (Vi ser på Kunsthåndværk i Norge, 5). Published in several editions.
Helen Engelstad: Refil, bunad, tjeld. Middelalderens billedtepper i Norge. Utgitt av Kunstindustrimuseet i Oslo. Oslo, Gyldendal Norsk Forlag, 1952. (Fortids Kunst i Norges Bygder, Serie II, Publikation II).
Hans Dedekam: Baldisholtæppet. Christiania (Oslo), Alb. Cammermeyers Forlag, 1918.
Maria Brekke Koppen: Indføring i billedvævning. Kbh., Forlaget Notabene, 1982.

This page about the Baldishol Tapestry was written and designed by in March 1999. English translation April 2000 by Karen and Tim Williams. Updated September 29, 2012.